Say Hello to Daniel Cardone
---
September 30, 2015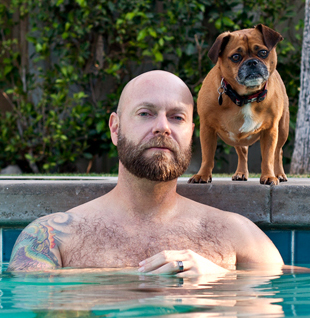 NO ONE ARRIVES IN THE DESERT WITHOUT A STORY
Daniel Cardone is a critically acclaimed producer and director. Desert Migration, a beautifully crafted documentary explores the unique journey of a group of men living long-term with HIV who found an oasis in Southern California's Palm Springs. The film examines their lives as they come to terms with the act of living again – embracing the second chance that has been given to them. Born in Australia, Daniel has worked on films from around the world. Some critically acclaimed productions include The Home Song Stories, Animal Kingdom and The Pacific. Desert Migration is Daniel's first feature film. We caught up with Daniel to get to know a little bit about him. After this conversation, we are even more intrigued by this incredibly talented man. Thanks, Daniel!
Where did you see the first film you ever made? Where did you see it and who was with you?
I had made a few shorts but the first FILM I made (in that it was shot and screened on actual film) was my graduate movie, Everybody's Dead, in 1994.  It first screened at the Mercury Cinema in Adelaide for 200 of my closest friends and enemies at midnight, and then we all went around the corner to a bar and got wasted.  It was fun, and nobody noticed that the movie didn't make any sense.
What was your first experience at a "gay" movie? What did you see, where did you see it and who was with you?
It actually watching Paul Verhoeven's The Fourth Man on TV with my dad and his girlfriend.   I was 14 – it was 1987.  We had an art house channel that would show things uncut and I thought it was a straight up horror movie and was thrilled and mortified when all the sex started.  It's not specifically a gay movie, but since the lead character is gay and it features guy on guy sex, I think it counts.
If you could not make movies, what creative outlet would you choose?
Writing or making music.  But since I can't play an instrument or sing, I'd be better off sticking to writing.
With a shout out to James Lipton, what turns you on?
Intense, funny people with vivid imaginations wearing crisp clean white underwear.
How do you think your film is particularly relevant to the Tampa Bay area?
Not having ever been to Tampa Bay (sadly), I can't say for sure, but I think the film is relevant to anyone who is gay and growing old…
Desert Migration – TIGLFF Screening Saturday
October 3, 2015 1:00
Palladium Theater