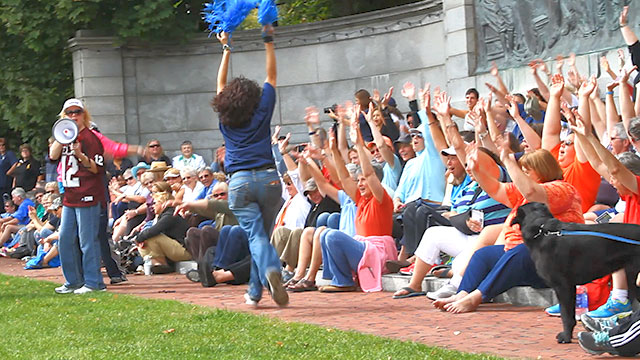 Andrea Meyerson, 2015, USA, 96 mins.
Sponsored by:  ProSuzy
Provincetown!  Women's Week!  It didn't just happen.  It was a planned, entrepreneurial strategy by a group of motivated, brilliant women innkeepers in Provincetown 32 years ago. Clambake is a celebration of the "pushy innkeepers" who found a way to bring thousands of women to the cold October tip of the world. Yes, it is homage to our history, but mostly it is a celebration of the visionaries that created a tradition that will live forever. Provincetown is Pride every day and Women's Week is paradise for a week.  It is a reminder that even in this progressive decade of same sex marriage, there is still a need for safe spaces for LGBT people. Women still revel in the simple pleasure of walking down Commercial street, holding hands and exhaling in an environment of acceptance and celebration.  Andrea Meyerson's film is fast, funny and celebrates us – lesbians with brains, brawn and bodacious wit.  Highlighting performances by Suzanne Westenhoffer, Kate Clinton, Jessica Kirson, Karen Williams, Vicki Shaw, Mimi Gonzalez and Suede, this film is a week full of fun and the inspiration of future vacations. (Sunny Hall)
Director Andrea Meyerson is scheduled to attend.
Date: October 5, 2016
Time: 6:30 pm
Cost: $
Venue: freeFall Theatre
Duration: 96 mins
Year: 2015
Language: English
Subtitles: No
Director: Andrea Meyerson
Country: USA
Type: