Rachel Mason, 2019, USA, 90 min
Karen and Barry Mason were just looking for a way to support their young family when they became distributors for Hustler Magazine. When they took over the renowned LA sex toy and video store Circus of Books, they became fully immersed in the gay community and became a safe place for queer people. The film focuses on the double life they led, trying to maintain the balance of being parents and being the biggest distributors of gay porn in the US. Their daughter, artist and filmmaker Rachel Mason, captures a funny and fascinating look at an important part of gay culture, including participation of gay porn icon Jeff Stryker.
---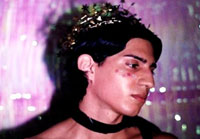 Only Trumpets
Tristan Scott-Behrends, 2018, USA 10 min
Longing for a touch the casual encounters section cannot satisfy, Tristan, an outsider among outsiders, navigates sex and love in the digital age.
Director Rachel Mason is scheduled to Skype with the audience following the film.
SPONSORED BY TAMPA BAY BONDAGE CLUB