End of the Century (Fin de siglo)
Lucio Castro, 2019, Argentina, 84 min
Time bends in this sexy film about the chance meetings of two scruffy, handsome men. Ocho meets Javi while vacationing in Barcelona. The electricity between them is immediate. After a missed connection on the beach, a third chance encounter escalates to a seemingly random hookup. But are these two merely beautiful strangers in a foreign city, or are they part of each other's histories—and maybe even their destinies?
In Spanish with English subtitles.
---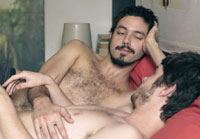 The Last Romantics  (Os Últimos Românticos)
João Cândido Zacharias, 2019, Brazil, 12 min
Two young men share different points of view of the same sexual encounter in a public space.
SPONSORED BY GABE ALVES REALTOR
Date:
October 11, 2019
Time:
10:00 pm
Cost:
$15
Venue:
Tampa Theatre
Duration:
96 mins
Year:
2019
Language:
Spanish
Subtitles:
English
Director:
Lucio Castro
Country:
Argentina
Type:
Drama, Foreign Language, Gay, Period (Historical)