Sam McCoy, 2022, USA, 80 min
A closeted high school senior soccer player, Millie Blake, embarks on a journey of self identity when she is forced to do a month of community service at a nursing home with a homoromantic classmate. Initially, the two girls butt heads, but the tension quickly blossoms into friendship as they learn more about each other.
---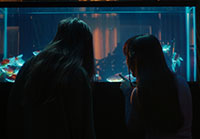 Lucky Fish
Emily Jampel, 2022, USA, 8 min
Two Asian-American teenagers meet in thebathroom of a Chinese restaurant while having dinner with their families.
Date:
October 8, 2022
Time:
2:30 pm
Virtual:
October 9-12
Cost:
$15
Venue:
Tampa Theatre
Duration:
88 mins
Year:
2022
Language:
English
Director:
Sam McCoy
Country:
United States
Type:
Coming of Age, Drama