This is Not Berlin (Esto no es Berlín)
Hari Sama, 2019, Mexico, 105 min
In high school Carlos is an outsider who likes unpopular music and building robotic sculptures. But one night when he gains entrance to the unique El Azteca nightclub in Mexico City, he suddenly finds himself to be at home among a crowd of outsiders. Punk rock, sex, and drugs combine in this 80s era drama to create an intoxicating coming of age story of a young man who must learn the difference between art and real life.
In Spanish with English subtitles.
---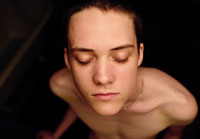 Things That Happen in the Bathroom
Edward Hancox, 2019, USA, 13 min
In the intimate sanctuary of the bathroom, a lonely young queer yearns for love, and learns how to survive heartbreak.
SPONSORED BY SUNSCREEN FILM FESTIVAL