5 O'CLOCK DOC – Retro Screening!
Marlon Riggs, 1989, USA, 55 min
Thirty years ago, filmmaker Marlon Riggs detailed his own experiences as a gay man coming to terms with his sexual identity, the death of many of his friends to AIDS, and the particular stigma that Black gay men faced. Both deeply personal and a brilliant experimental critique of the politics of racism, homophobia, and exclusion of the time, Tongues Untied is still poignantly relevant today.
---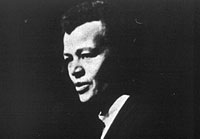 Stormé: The Lady of the Jewel Box
Michelle Parkerson 1987, USA, 21 min
In a time marked by the violence of segregation. Stormé DeLarverie was a woman whose life flouted prescriptions of gender and race. Parkerson's short doc celebrates Stormé, a legendary male impersonator and performer who came up during hard times but always "kept a touch of class."
Date:
October 7, 2019
Time:
5:00 pm
Cost:
$15
Venue:
Tampa Theatre
Duration:
76 mins
Year:
1989
Director:
Marlon Riggs
Country:
USA
Type:
Black, Documentary, Gay, HIV/AIDS, Retro