Creative OUTlets Episode 2: Sam Obeid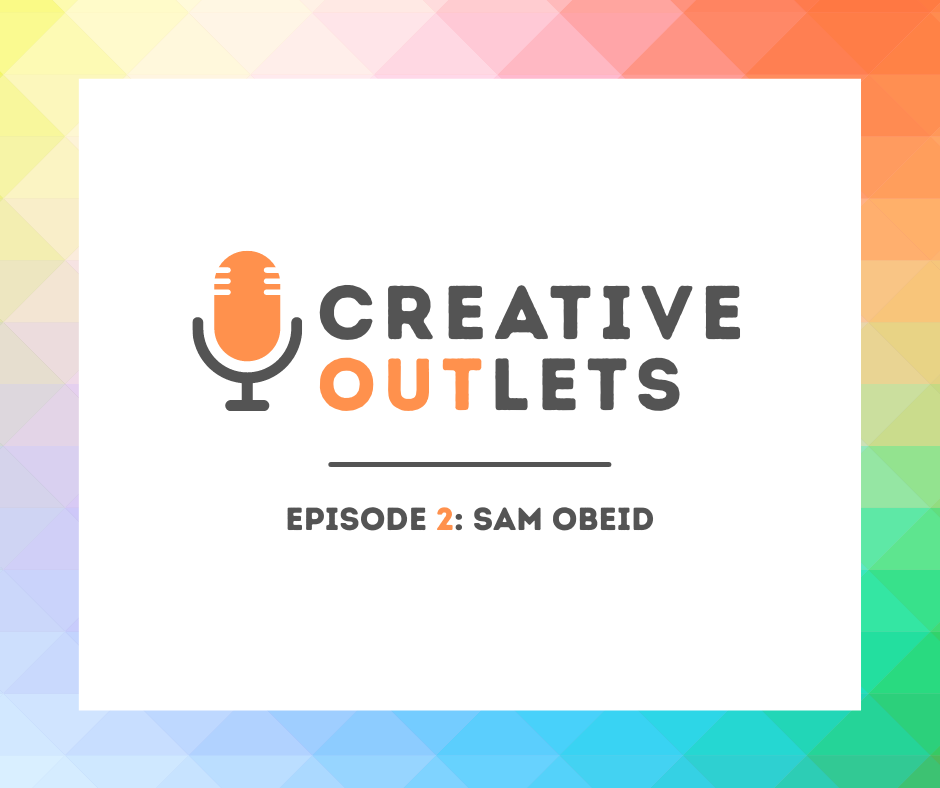 CREATIVE OUTLETS – Episode 2
Spoken word poetry continues to gain popularity — from the National Poet Laureate Amanda Gorman's poem "The Hill We Climb" which she recited at this year's Presidential Inauguration and as soon as it was published debuted at #1 on bestseller lists — to this summer's release of the feature length movie Summertime, a dramatization of several poems written and performed by diverse and queer high school students in Los Angeles. If you didn't get a chance to view the film during our "Queer in Color' BIPOC film festival this month, then check it out at the Tampa Theater in July. 
Tampa Bay has enough poets to inspire a sequel to the movie called Wintertime…and one such talented local that should be featured in it is Sam Obeid. To get to know Sam, one could listen to her poem The Journal which charts her years from 1999 to 2014, referencing her past in India, her eventual move to the U.S. and Tampa where she fully embraces her identity as a "creative thinking, five language speaking, beautiful brown-skinned poetic dyke."
Coming to the U.S. in 2007, she first lived in Michigan before moving to Tampa, Florida a year later and falling in love with the scene in Ybor City as well as coming out as a lesbian.  In 2011 her co-worker at the USF Office of International Affairs talked Sam into joining her on stage at an Open Mic night at the Bunker in Ybor City where they would each read a poem they wrote. That's when Sam first performed Boxes, a poem that was the culmination of her four-year process of coming out and figuring out her sexuality. The reception she got from that first performance was so warm and the conversation that it inspired afterwards is what motivated her to want to keep doing poetry.
Soon she found out about poetry slams and when the National Women of the World Poetry slam came up, she competed at the local level where she qualified for the national level. In 2015 she traveled to Albuquerque, New Mexico, where she competed against 96 poets and became one of 12 finalists. Sam recalls that she wasn't prepared to be a finalist and so she didn't have enough poems. She was sitting in her hotel room trying to write new poems and pulling out old poems because you can't perform the same poem twice. She ended up placing 5th on stage after reading poems such unflinching honest poems as Pigtails 
Sam recorded an album called Metaphor with 5 poems on it and she chose a very unique method of delivery. She distributed cards made of seeded paper. On the back of the card there was a code to download the album.  Then after you were done you could just dump the card into the lawn and it would flower into a plant because of the seeds on the paper..
But Sam says it's not about the materials and merchandise. She prefers to connect with people through the live performances. "It's all about the conversations that happen after the show," says Sam. "That's why I do it."
As Sam became more involved in the Tampa activism community, she started doing features across the country at venues like Busboys and Poets in DC and Nuyorican Poets Café in NYC. 
 "As I was doing poems in different places, those conversations just kept happening, regardless of whether it was at a protest or at a venue." she recalls. "That's when I started realizing, I want those conversations after the show."
Sam started performing at any place that would allow her to have those conversations after the show like colleges and Universities and rallies. "Social justice is huge in my life," she says. "Anywhere activism requires a bit of a pep talk or nuance added to it, I would perform at those places." 
"You don't have to get up on that presidential inauguration stage to be a poet," says Sam. "We will poet for everybody. There could be a roomful of a thousand people and if one person needs that poem we will get up on that stage and do that work. We'll do the work with the young humans that nobody wants to have a conversation with. Young humans in classrooms. Young humans in juvenile detention centers. Young humans of various cross sections of identities that never get heard. We will be in those spaces doing that work consistently. No matter what elite honor is bestowed upon us."
Sam's full-time job working with youth in anti-discrimination cases, does not leave her with a lot of free time to pursue all of her projects. She does want to eventually create a one-human show expanding on her poem The Journal in a multi-media show similar to Hasan Minhaj's Homecoming.) 
Sam recently did an installation piece at Allendale Church in St. Pete where she took all of her immigration paperwork and made copies to cut up and create a collage on a 6×4 ft canvas. Then she performed a poem live in front of the installation piece to an audience. She also participated in a TedX Talk on USF campus with her photography displayed in the background. 
"When you're an immigrant on a Visa, you can't access a bunch of grants to fund projects because you're not a U.S. citizen," she says. "You don't have the kind of economic privilege."
But Sam posits that Art has a way of dismantling privilege even during the most classist periods. "It's subversive by nature of the work itself," she says. "Reading a poem off the page has a lot of impact. But being able to see somebody speak their truth, which sometimes can be so unsafe because of its authenticity, forces people to check their own allowance of authenticity of both other people and themselves. And that is both a precarious and beautiful place to be."
Read more about Sam and hear her poetry at http://www.samiraobeid.com
Co-hosts Zachary Hines and Derek Horne got to chat with Sam about her background inspiration and future projects and were also treated to a performance of Sam reading "The Immigrant Poem"
To watch the conversation, click here: https://youtu.be/E5Z-VN_JwSc