We're Looking for a Programmer!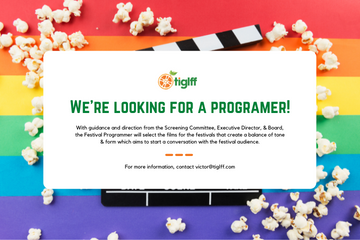 We're Hiring!
POSITION:    Programmer
DESCRIPTION:       Working with the Screening Committee, Executive Director, and Board, the Festival Programmer will select the films for the festivals that create a balance of tone & form, and aim to start a conversation with the audience.
RESPONSIBILITIES:
Manage the Screening Committee with the Chair for the main Tampa Bay International Gay & Lesbian Film Festival in October, Queer-in-Color (BIPOC) Mini-Fest in June, and Trans Gender Film Festival Mini-Fest in March 2023.
Secure and make recommendations for the Monthly Community Film Screenings.
Work with the Executive Director, Screening Committee Chair, and Board on the final selection and film schedules for all the Festivals.
Arrange and coordinate selection of visiting filmmakers & talent to attend the festival.
Create a media spreadsheet with all film titles, video links, PR contact information, film capsules, loglines, film awards, and names of notable filmmakers & talent associated with each film.
Write film capsules for all films selected for all the Festivals.
Be "in residence" for an agreed upon portion of the main festival in October.
Work with the Hospitality Committee during the Festival for filmmaker/talent relations.
Select and manage the Festival Jury.
Meet established deadlines throughout the year.
Work with Film Trafficking to ensure all titles arrive and depart in a timely manner.
Work with the Festival Manager on all details regarding talent travel to and from the festival.
Work with Screening Chair and Executive Director in scheduling film introductions and Q & A's at the festival.
Work with the Executive Director and Festival Manager in securing film contracts for the Festival.
Travel (as negotiated) to represent the Festival.
Work within festival budgets that are set by the board.
Maintain a professional and respectful presence at all times while representing the Festival.
Provide accountable receipts for expenses and work within the expense accounts set by the Board and Executive Director.
MISSION:      to showcase films by, for, or about the LGBTQ+ community that Entertains, Empowers, and Enlightens the audience and fosters a greater sense of community.
REQUIREMENTS:  Min. 5-years programming experience of at least two weekend long festivals.
COMPENSATION:           Dependent on experience; yearlong contract position paid monthly.
CONTACT:  Executive Director Victor Gimenez at victor@tiglff.com